A SCHOOL OF DEVOTIONAL LOVE
Home of The Holy Quest for Sacred Union
Masculine and Feminine Initiations into
a Love that is Devotional by Nature
At Dancing Serpent Mystery School we guide Initiatory Journeys for Men and Women whose deep longing is to experience true love in this lifetime. 
We believe that the core longing of each soul is to experience Sacred Union, and yet many struggle with relationships: perpetuating cycles of destruction and toxicity, leaving the heart withered and disbelieving. 
In order to awaken to Devotional Love, the kind of love that creates magic, heals wounds, and unifies Souls, we need to re-awaken to the primordial frequencies of the masculine and feminine principles held within earth and cosmos. 
The masculine and feminine principles are divine principles of life that connect us to the sacred dimension of reality. Sadly, in our separation from Earth and Spirit this connection has been lost.
This disconnect creates much disharmony and cycles of destruction to the whole web of creation which impact us personally, relationally, and multi-dimensionally. 
The spiritual journey of repairing our connection to the masculine and feminine principles is a journey home to the truth of your primordial essence.
If you are ready to awaken from the spell of false programming around what it means to be Man or Woman and embody your unique soul essence, in alignment with earth and spirit then we are here to serve you. 
Here, you'll remember your connection to the Animate Earth, walk the ecstatic path of awakening, embody your Soul, and live from the deepest expression of your Heart for a multidimensional love affair with life. 
We serve The Ancient and Holy Quest of Sacred Union.
The Initiatory Journey Home to Your Heart and Soul
"It's the experience of being in connection that fulfils the longing we have to feel fully alive. An impaired capacity for connection to self and others, and the ensuing diminished aliveness, are the hidden dimensions that underlie most psychological and many...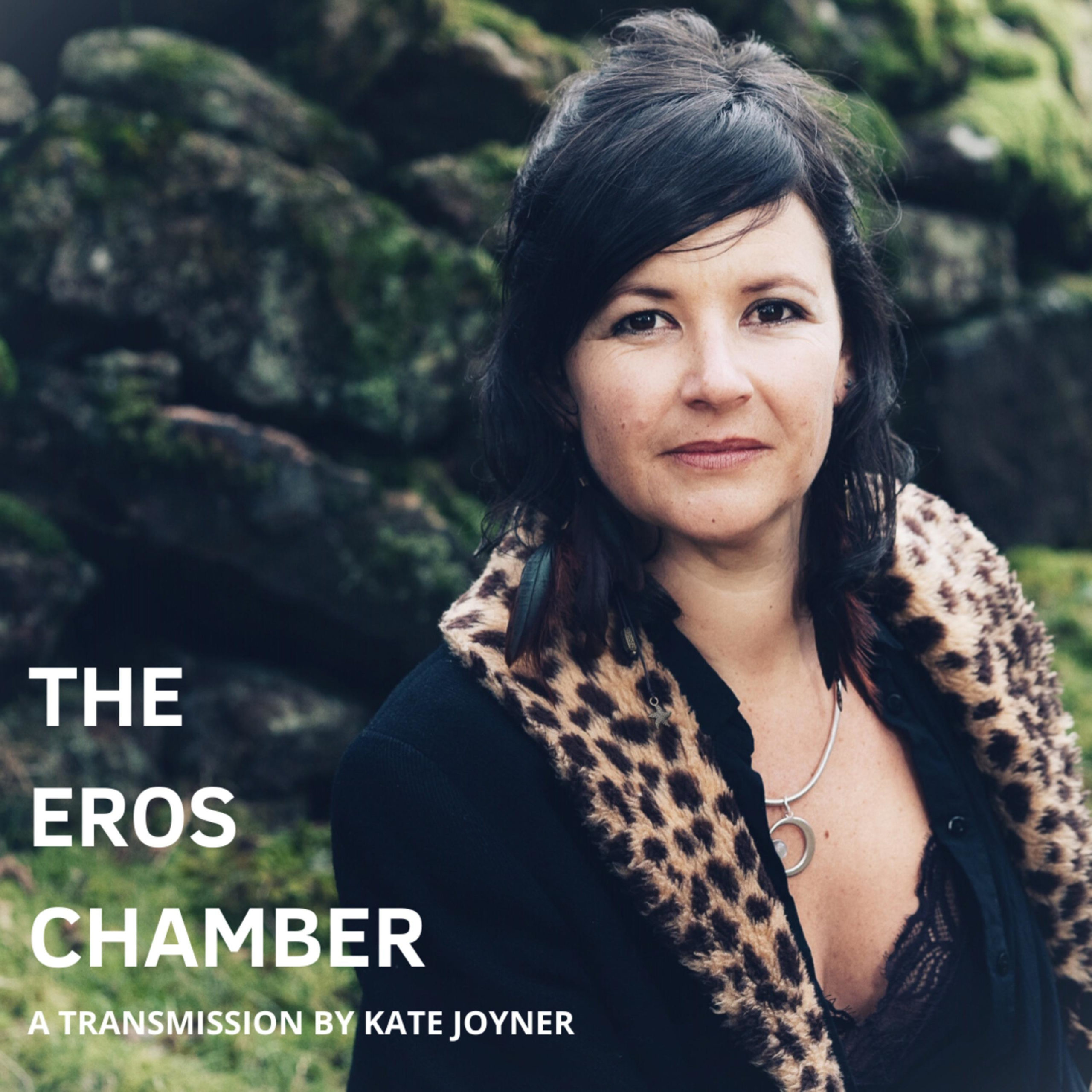 A blend of conversations and radio shows where we turn up the dial on Eros. Tune in and attune to the frequency of LOVE. 
A Transmission by Kate Joyner,
Founder of The Dancing Serpent Mystery School 
As with every journey, the quest begins within. If we are to make change in our external reality it's necessary to lay the foundation from the inside.
Whatever your journey with love has been until now, if you have found your way here, I imagine the yearning to experience Devotional Love and Sacred Union is a vibration that rings deep within your Heart and Soul. 
The ancient and timeless longing that dwells within the depths of your heart and the quaking of your Soul is not something to be denied or remedied away. Your longing is the animistic force of the natural world wanting to be made known through you.
Your natural and organic design is to live in alignment with the Sacred. In doing so, you become a vessel for Union with life that encompasses the Divine within all of your relations, from Self, to Other, to The Earth, and The Great Mystery. 
The great tragedy of our times is that you are encased in a spell of false programming, which has you living in a state of separation from the sacred dimension of your existence. As a result you live divorced from the true ecstasy available to you when you are living in connection, relationship, and intimacy with the depths of your Heart and Soul.
But all is not lost. 
↡
FOR WOMEN:
WELLSPRING OF THE SERPENT HEART
SPIRAL 1 : AWAKENING TO LOVE
SPIRAL 2 : INITIATION INTO LOVE
SPIRAL 3 : TRANSMISSION OF LOVE
A Journey of Deep Feminine Initiation through Nature and Body

Join the next SPIRAL 1 : October 2023
Our 13-moon journey of Deep Feminine Awakening through Nature and Body
The maps and pathways of Sacred Union have largely been eradicated, but the ancient ways cannot be forgotten. The remembrance of Union lives within the wisdom of The Earth, the bones of your body, and the song of your benevolent ancestors.
The Quest for Beloved Union is as ancient as time.
It's through the Union of The Masculine and Feminine that the world is created. 
The way home is held within in the bloodlines of your Soul and the World Soul. 
Your longing for a love that is devotional is the evolutionary pulse of creation that exists within each human Soul. Hidden within the secret chambers of your body and Earth's body are the ways to remember a love that is multi-dimensional by nature's design and a path that leads us all the way back home, to Sacred Union with the Beloved, within and without.
↡
FOR MEN:

PATH OF THE BLAZING DEER HEART
DOORWAY 1 : AWAKENING TO LEAD
DOORWAY 2 : INITIATION INTO LEADERSHIP
DOORWAY 3 : TRANSMISSION OF LEADERSHIP 
An Initiatory Journey of Masculine Exaltation through Embodied Consciousness and Nature
Join the next Doorway 1: October 2023
A 13-month Journey to the Core of the Integrated Masculine
INTRODUCTORY CLASS
(ONLINE) 
↡
INTRODUCTION TO THE DEEP FEMININE MEDITATION DANCE
Would you like to dip you toes in the water before committing?
This introductory class is where you can come and taste if this journey is right for you. 
Join the next INTRODUCTION: September 2023
A Dance that will bring you home to the inner wellspring of your Feminine Eros. 
4 WEEKS ONLINE
IN-PERSON THEATRE CLASS
(DEVON, UK) 
↡
THEATRE OF THE WILD
Unleash your elemental expression through the exploration of Theatre and the mysteries of Earth.  
Next Term Begins: TBC 2023
An alchemical laboratory for the creative expression of your Soul 
MIXED GENDER : IN PERSON : DEVON
What others are saying.
Words from past participants of the Dancing Serpent Mystery School offerings.
♧
I feel like I moved my feminine from the margins to the core of my being in just a few days.
♢
"In shedding my inflated ego, I've found the strength of the true man, of the me.
I stumbled on my real strength by walking the map of the psyche in an embodied way. The embodiment practices have brought me such joy and all that has been activated will stay with me deep within. The biggest transformation has been about commitment and integrity to my word and to money."
Elemental Eros Participant
2023
♤
"As I continue my journeys guided by Kate, with her impeccable attention to detail, she nudges me ever closer to finding my own unique enactments of the art of the feminine."
♥
"I feel humbled and I feel more like a man.
I've become a man I can trust."
Elemental Eros Participant 2023
♧
"At the beginning I was living with this underlying anger. Now I know what is my power and what isn't. I understand the way certain things are inside of me.
There is an acceptance of who I am and my own way of doing things."
Elemental Eros Participant
2023
♢
"I entered this journey 5 months ago as a human being quite aware of herself. I'm ending this journey as a WOMAN, tasting the intimacy and particularities of being a woman. I didn't pay much attention to the difference between masculine and feminine before.
Now I feel so enchanted about being a woman.
I feel curious and have more awareness of men and the polarity between us."
S. – Elemental Eros 2021
♤
"At the Elemental Eros Retreat I could open a door to the space within myself that holds the true treasures of (my) life: freedom, vulnerability, the ability to feel, strength, courage and lust for life. It was a journey discovering what is important to me, what really matters and what is worth standing for. It was inspiring and encouraging to be on this journey with sisters, feeling loved and held and celebrated. We had so much fun going wild together."
♥
"The shift for me, and the magic and mystery of the process, has been through the energetic activations and my embodiment. There is more of a connection, with myself and with the land.
I'm now living my life from a place of wholeness, instead of brokenness.
The energies that I've activated through the alchemical embodiment practices have allowed me to make this shift."
Elemental Eros Participant
2023